Premier Solo Exhibition at Joel Oppenheimer Gallery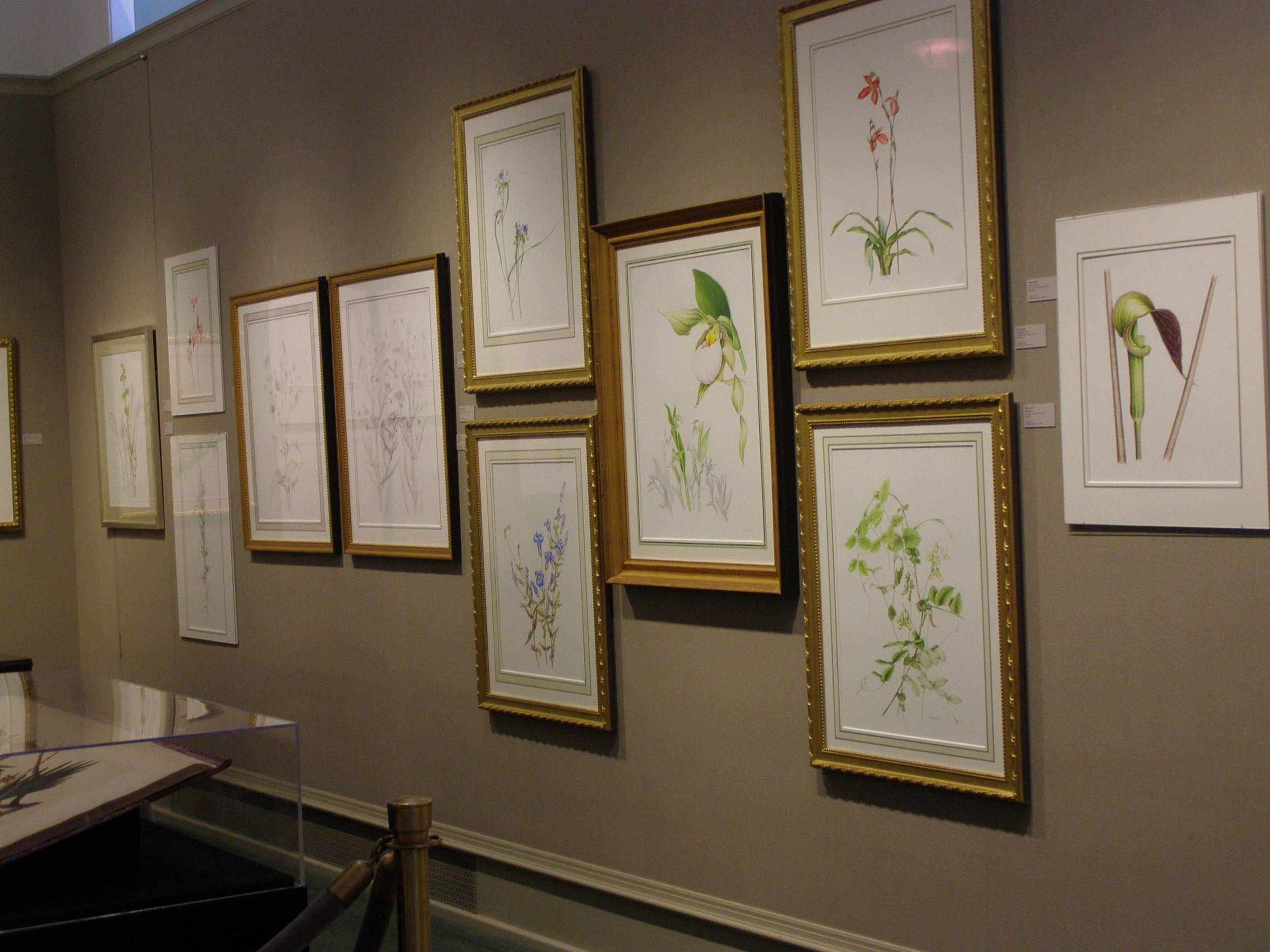 Heeyoung Kim: Native Plants
of the Woods and Prairies
Among the masters including John James Audubon, Pierre-Joseph Redoute and Margaret Mee, Heeyoung's works were exhibited as the first and only living artist in this renowned natural history art gallery. Chicago, IL, 03/27 - 05/31, 2015. Below is a slide show from the exhibit.
Solo Exhibition at Chicago Botanic Garden Orchid Show
A Passion for Orchids and Conservation
6 paintings of orchids were exhibited among 10,000 live orchids! At Chicago Botanic Annual Orchid Show, Heeyoung's paintings greeted tens of thousands visitors at the entrance. Only ferns and plants that don't need a lot of water were displayed near my paintings to keep them safe. 3 days of orchid painting workshop was accompanied to this orchid show and exhibit. 2017.
Other Solo Exhibitions
Singular Study: Plant Portraits, Brushwood Center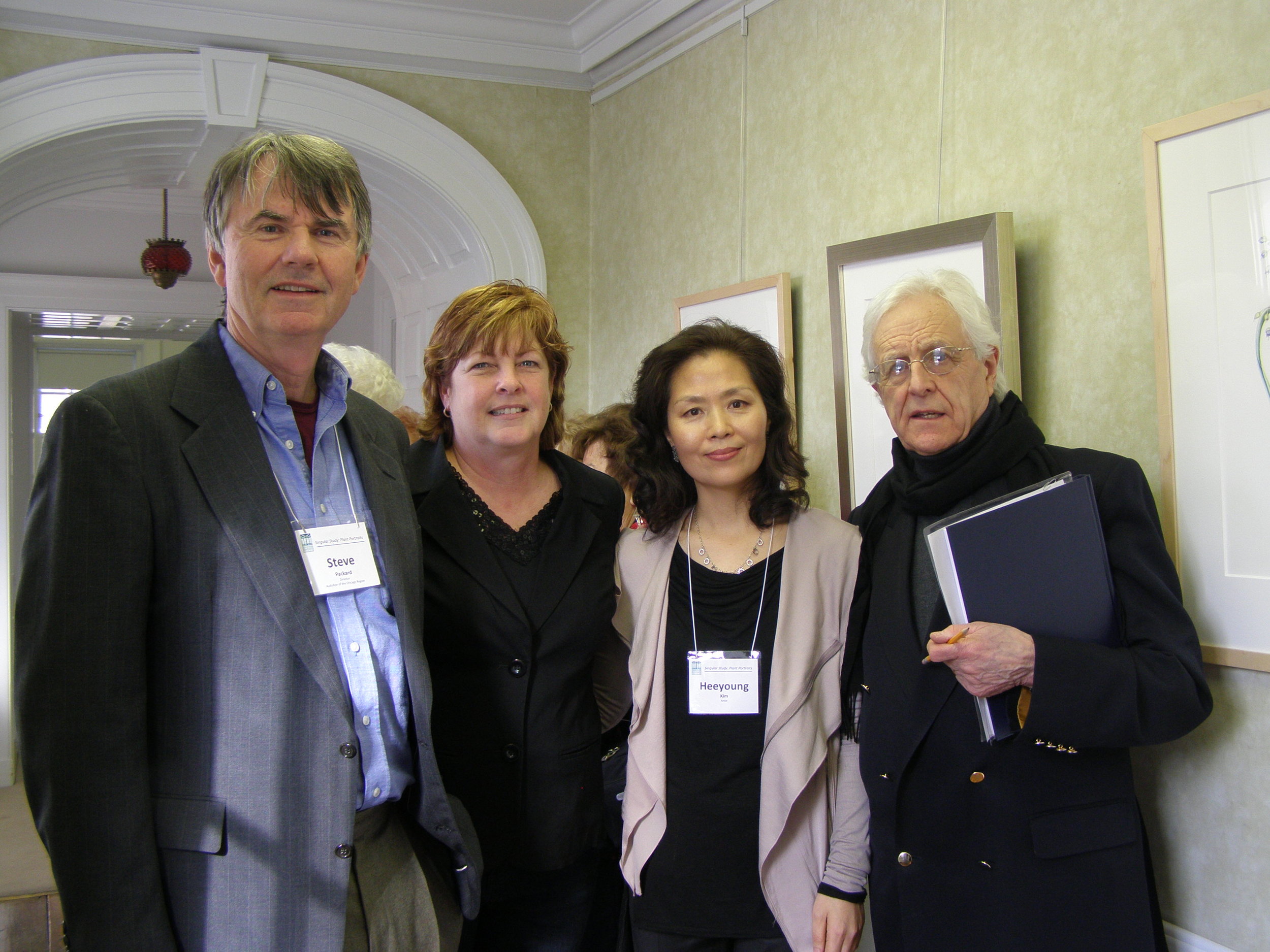 Singular Study: Plant Portraits
Her first solo exhibit at Brushwood Center brought her a reputation as a wildflower painter. Her inspirations shown in this photo are leading conservationist Stephen Packard and Linda Master, and her teacher Derek Norman, who opened the door toward the world of botanical art to her. 2011.
Rugged Grace: In Praise of the Prairies and Woodland, Works by Heeyoung Kim, Phipps Conservatory, Pittsburgh, PA, Aug 15 - Nov 8, 2015
The Royal Horticultural Society Botanical Art Exhibition, London
Plants of the American Prairie. 8 watercolor paintings of prairie plants. Plants for the exhibit were carefully selected for harmonious display with blue, pink and yellow flowers.
Dragging the big paintings from Chicago to London was quite a challenge, but that was a very good experience, especially when it was paid off with a gold medal.
International Botanical Art Exhibition at new york design center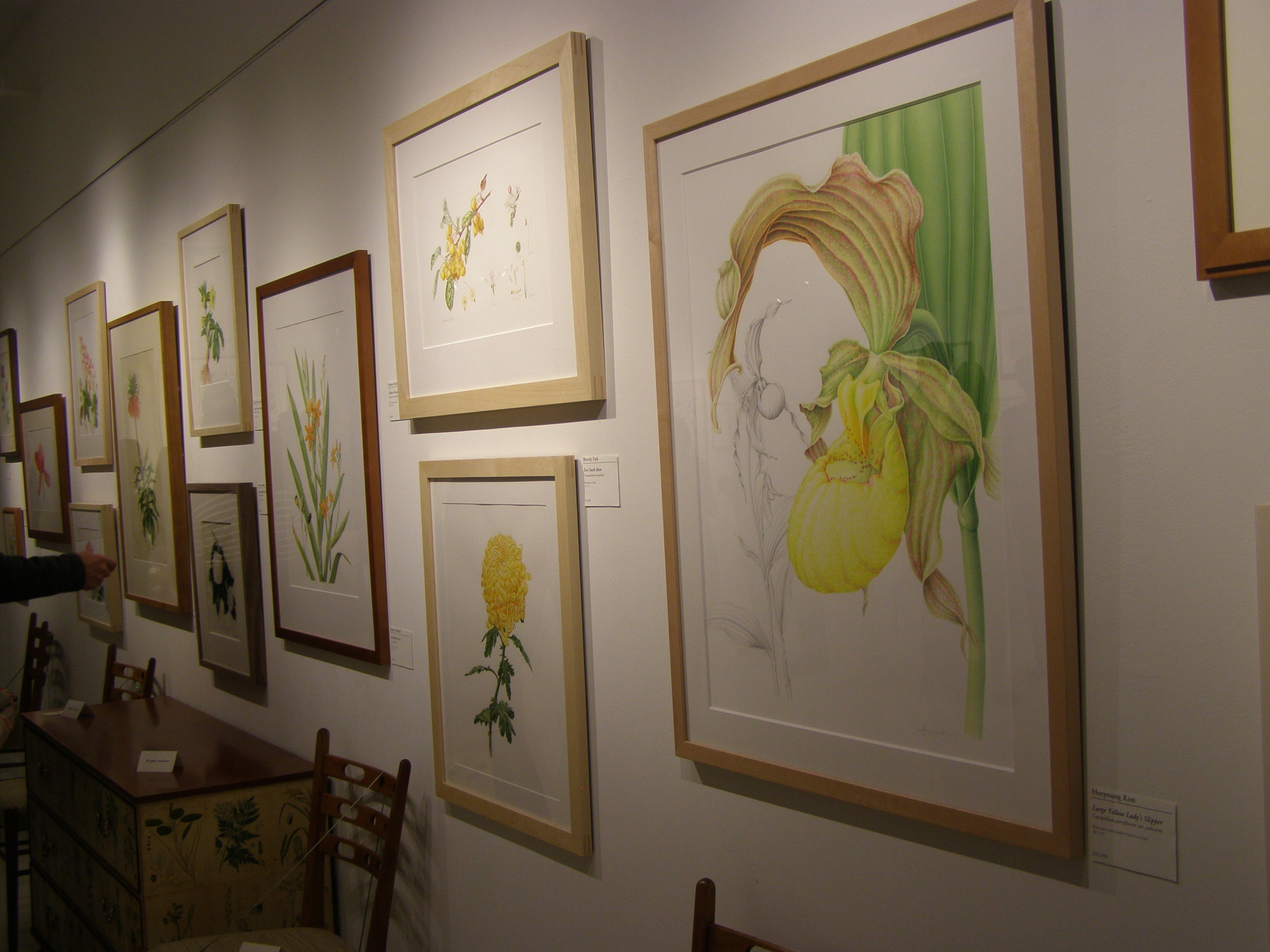 Best in the Show Award- HSNY/ASBA
Horticultural Society of New York and the American society of botanical artists host one of the finest botanical art exhibits. Heeyoung has been in the show in 2008, 2010, 2011, 2012, 2013, 2016. She won several awards including Best in the Show, 2012.
photo: Display from the exhibit, 2016. The first from the right is Yellow Slipper Orchid by Heeyoung Kim.
13th International at Hunt Institute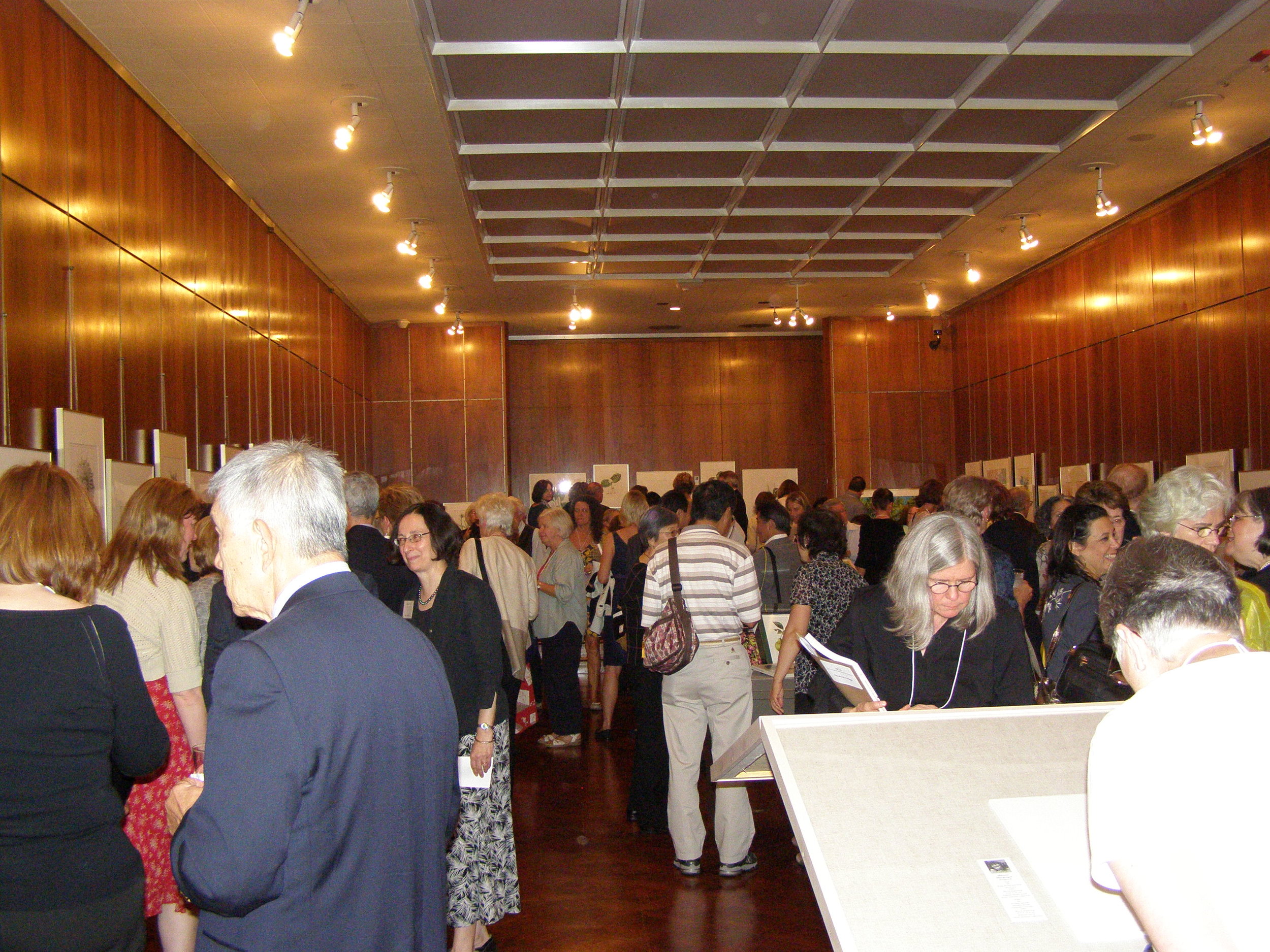 Hunt Institute
for Botanical Documentation
Hunt Institute at Carnegie Mellon University, Pittsburgh, has the largest botanical art collection in North America, and artists can get in once in a life time. Two of Heeyoung's works, a watercolor (Green Dragon) and a pen-and-ink (Prairie Dock), were exhibited in 2010.
Prairie Dock (Silphium terebinthinacium), pen-and-ink by Heeyoung Kim is in the permanent collection.
Losing Paradise? Endangered Plants Here and Around the World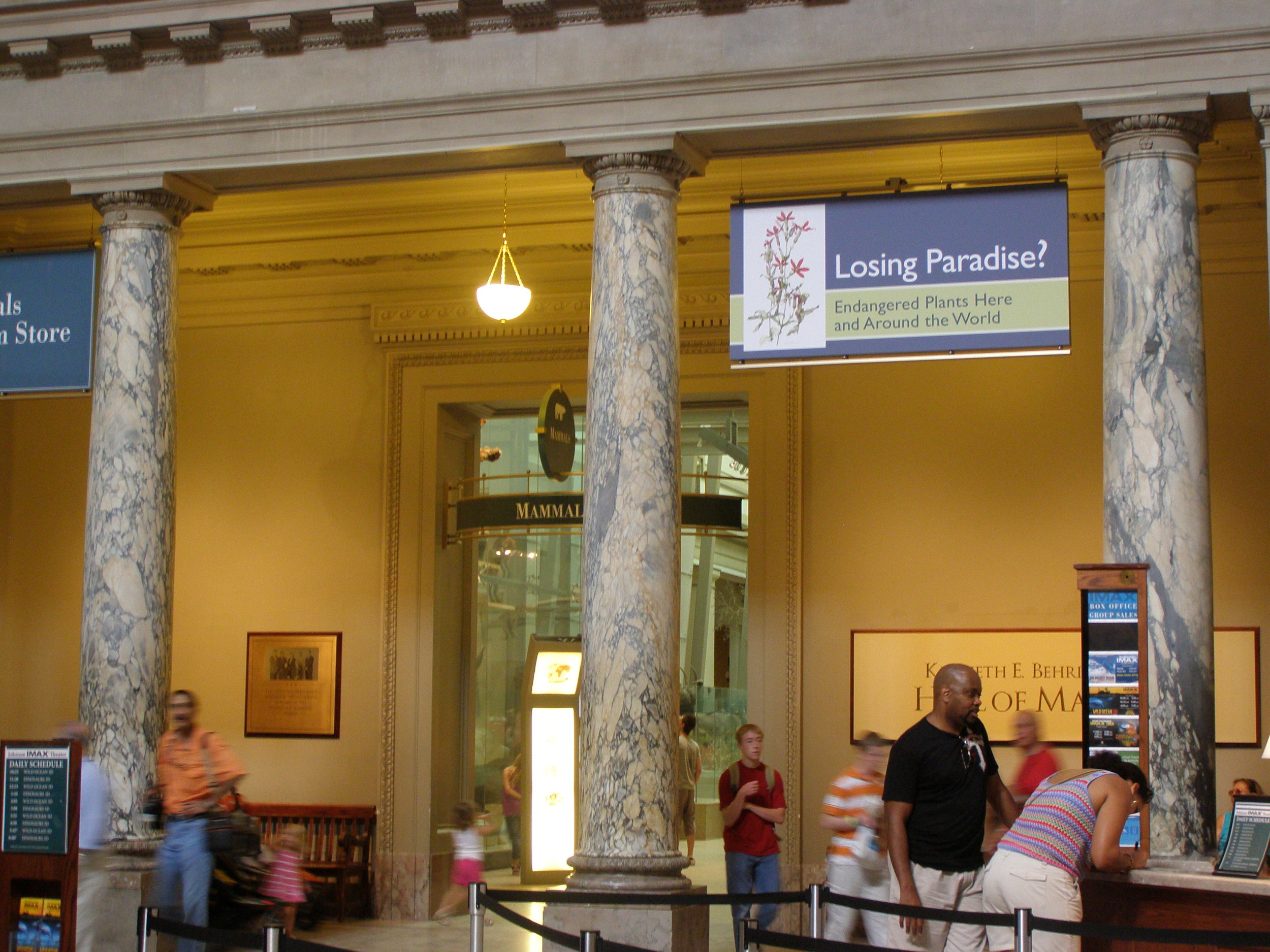 Smithsonian Natural History Museum
The American Society of Botanical Artists and NMNH collaborated a traveling juried botanical art exhibition with paintings of endangered species from around the world. The exhibit traveled 5 venues including Smithsonian museum.
Royal Catchfly, Silene regia, a federally listed endangered prairie plant, by Heeyoung Kim, was chosen for the exhibit banner and invitation card at Smithsonian, 2010.
Plants in Peril at Shirley Sherwood Galley, London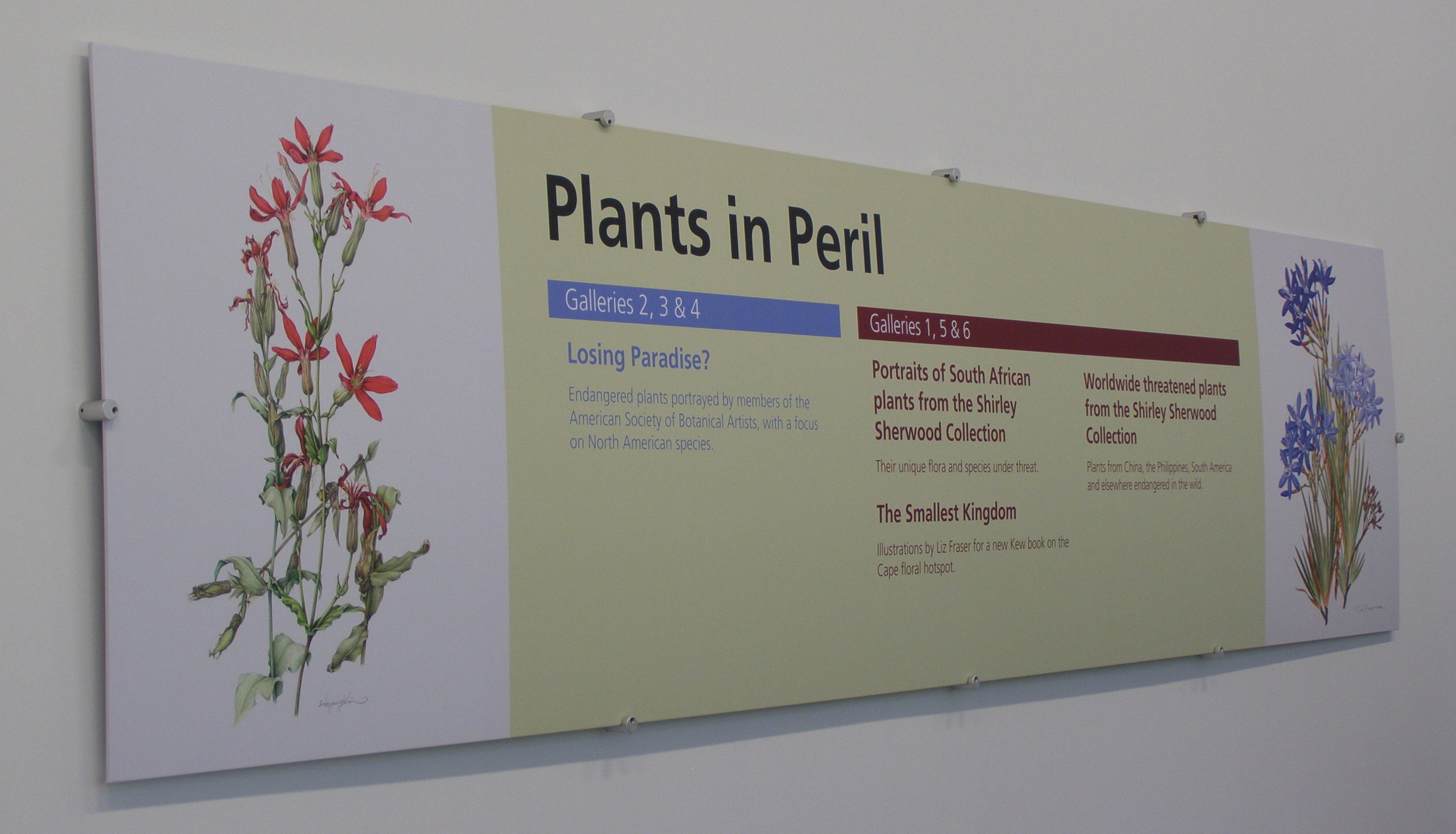 Royal Catchfly in KEW, London
This endangered prairie plant got some heat with 'Losing Paradise" exhibit. The whole exhibit was invited to Shirley Sherwood Gallery in KEW garden.
As a total beginner botanical artist at that time, I was delighted to see my painting in the signboard at KEW, 2011.
Margaret Flockton Award, Sydney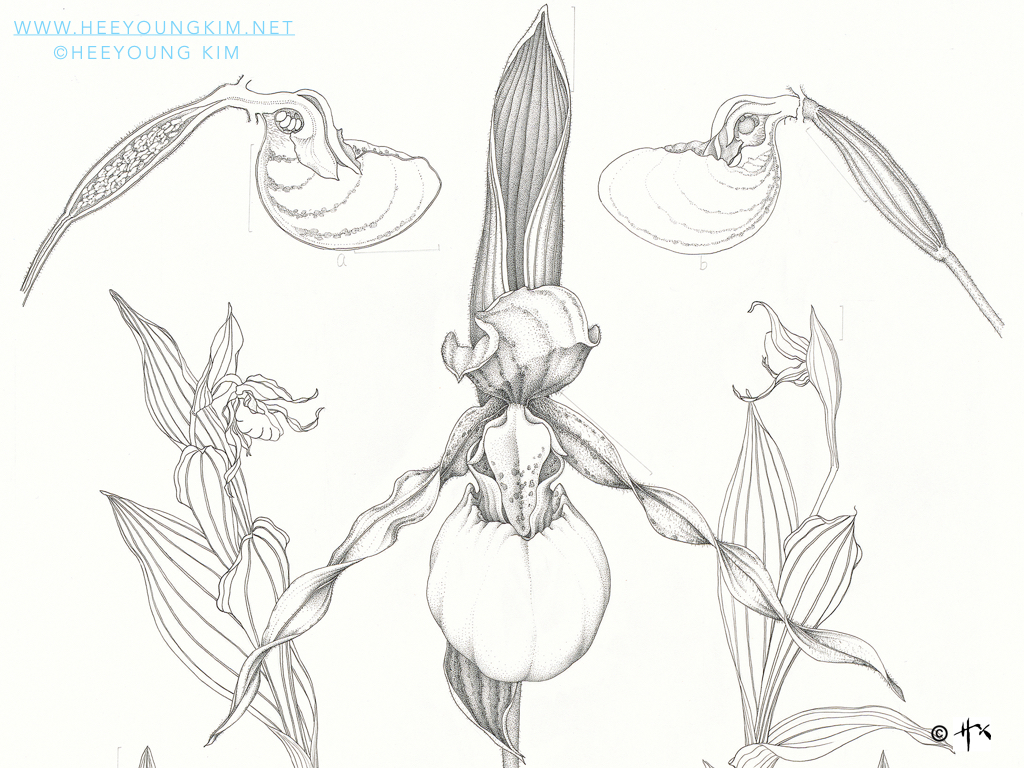 Pen-and-Ink Botanical Illustration competition, Sydney
Margaret Flockton Award is the only juried exhibition for traditional ink botanical illustration in the world. Heeyoung uses crow quill pen and old style bottled ink instead of convenient mechanical pens, because she feels and breathes the history of this art form through the traditional medium. She exhibited her drawings of White Lady's Slipper in 2010 and Green Dragon in 2013.
Photo: detail of White Lady's Slipper by Heeyoung Kim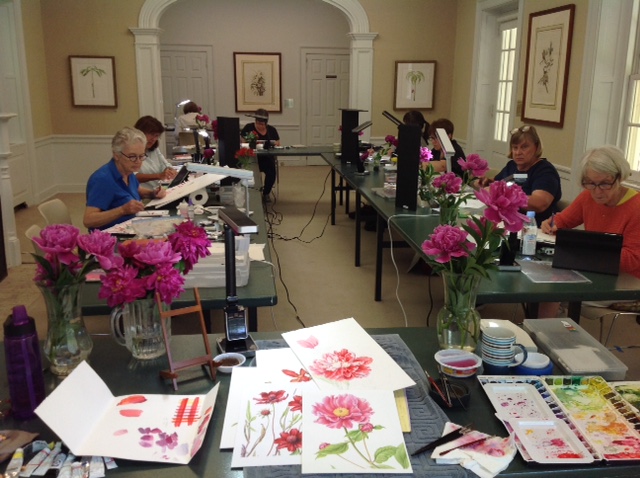 Enriching Life at Brushwood Center
From the results of joyful learning in Heeyoung's workshops and classes at Brushwood Center, annual exhibition is mounted at the end of the year. We are proud of our past two very successful exhibitions, and excited with upcoming 3rd exhibit, Nov 12 - Dec 21, 2017.
Upcoming 3d Exhibit Opening Reception: Nov 12, 1 PM - 3 Pm. Meet the artists and enjoy live music and refreshments.
Other Group Exhibitions
Articulate Visions: The Convergence of Art and Science, Reed-Turner Botanical Artists Group exhibition at H.F. Johnson Gallery of Art, Carthage College, Kenosha, WI, Sep. 9 – Nov. 14, 2015
Following Bartram's Footstep: The American Society of Botanical Artists, in collaboration with Bartram Garden, a travel group exhibition at 5 venues:
Bartram's Garden Gallery, Philadelphia, PA, April 26 – May 24, 2013

South Florida Museum, Bradenton, FL, September19 – December30, 2013

Cherokee Garden Library/Atlanta History Center, Atlanta, GA, Mar. 17 – Jun. 17, 2014

North Carolina Botanical Garden, Chapel Hill, NC, August30 – Nov.2, 2014

University of California Botanical Garden at Berkeley, CA, Dec. 2014- Feb. 2015
Small Works: the American Society of Botanical Artists Conference Exhibition, Chicago Botanic Garden, Glencoe, IL, 2012
Filoli 13th Annual Botanical Art Exhibition: Filoli Botanical Garden, Woodside, CA, 2009, 2011, 2010
Major Acquisitions & New Works: Lloyd Shin Gallery, Northbrook, Illinois, 2010
Losing Paradise? Endangered Plants Here and Around the World: a travel group exhibition hosted by the American Society of Botanical Artists in collaboration with Smithsonian National Museum of Natural History at 5 venues.
Missouri Botanic Garden, October 5 – November 15, 2009

Chicago Botanic Garden, January 16 – April 4, 2010

New York Botanical Garden, May 6 – July 25, 2010

Smithsonian National Museum of Natural History, Aug.14–Dec.12, 2010, (Heeyoung's watercolor of Royal Catchfly, Silene regia was chosen for main exhibition sign board, exhibit panel, and invitation card. Royal Catchfly is on the exhibition page of the website permanently since 2010)

Shirley Sherwood Gallery, Royal Botanic Garden, KEW, London, June 25 – Oct. 16, 2011, (Heeyoung's Royal Catchfly was chosen for exhibit banner)
A Natural Perspective: An International Juried Exhibition of the American Society of Botanical Artists, Phoenix Art Museum, Phoenix, AZ, October 15, 2009 – January 3, 2010
Small Works: the American Society of Botanical Artists Conference Exhibition, Huntington Library, San Marino, CA, 2008
Awards
RHS Gold Medal and Best in Show HSNY/ASBA
ASBA Eleanor Wunderlich Award for Excellence: 16th Annual International Juried Botanical Art Exhibition, the Horticultural Society of New York, September 20, 2013
Gold Medal: RHS (Royal Horticultural Society) London Botanical Art Exhibition, March 16-17, 2012
Best in Show Award: 15th Annual International Juried Botanical Art Exhibition, the Horticultural Society of New York, September 14, 2012
Diane Bouchier Artist Award for Excellence in Botanical Art: The American Society ofBotanical Artists, October 20, 2012
Award for Merit: 14th Annual International Juried Botanical Art Exhibition of the American Society of Botanical Artist and the Horticultural Society of New York, September 21, 2011
Honorable Mention: 13th Annual International Juried Botanical Art Exhibition of the American Society of Botanical Artist and the Horticultural Society of New York, September 15, 2010