Classes | Workshops | Events- Local and Nationwide
My new Slide Show showing variety of works in media and subject.
traveling Exhibition: The Transylvania Florilegium- The Prince of Wales's collection
The Transylvania Florilegium: Botanical Art Collection "created under the aegis of the Prince's School of Traditional Arts to record in a permanent way the flora of Transylvania". 3 watercolor paintings of Heeyoung Kim are included in this collection, and can be seen in Volume 1.
1st exhibition: Watercolors Depicting Plants Growing in Romania, Volume 1, The Prince of Wales's Charitable Foundation, 21st May - 31st, August, 2018, at Romanian Cultural Institute (Embassy of Romania), 1 Belgrave Square, SW1X 8PH, London, UK. Video courtesy: Embassy of Romania Facebook Page.
2nd exhibition: Wildflower of Romania: A Botanical History at the National Art Museum of Romania, Bucarest, Romania, April 12th - , 2019
Heeyoung Kim, Botanical Artist, Instructor, Native Plant Advocate
"When I first saw her work, I immediately recognized that she has the talent on par with the Masters that we represent- Basilius Besler, Priscilla Susan Bury, Pierre-Joseph Redoute, Dr. Robert John Thornton- to name a few."
- Joel Oppenheimer, president of Joel Oppenheimer Gallery -
Painting Wildflowers of Prairies and Woods
In the spirit of natural history artists in the past, contemporary botanical artist, Heeyoung Kim documents native plants of Midwestern USA (Project 200). Her exquisite and deftly painted compositions portray native woodland and prairie plants. Giving priority to rare and endangered species, she also paints common ones when they have high ecological values. To view the image bank of her paintings of prairies and woods, go Project 200.
Represented by Joel Oppenheimer Gallery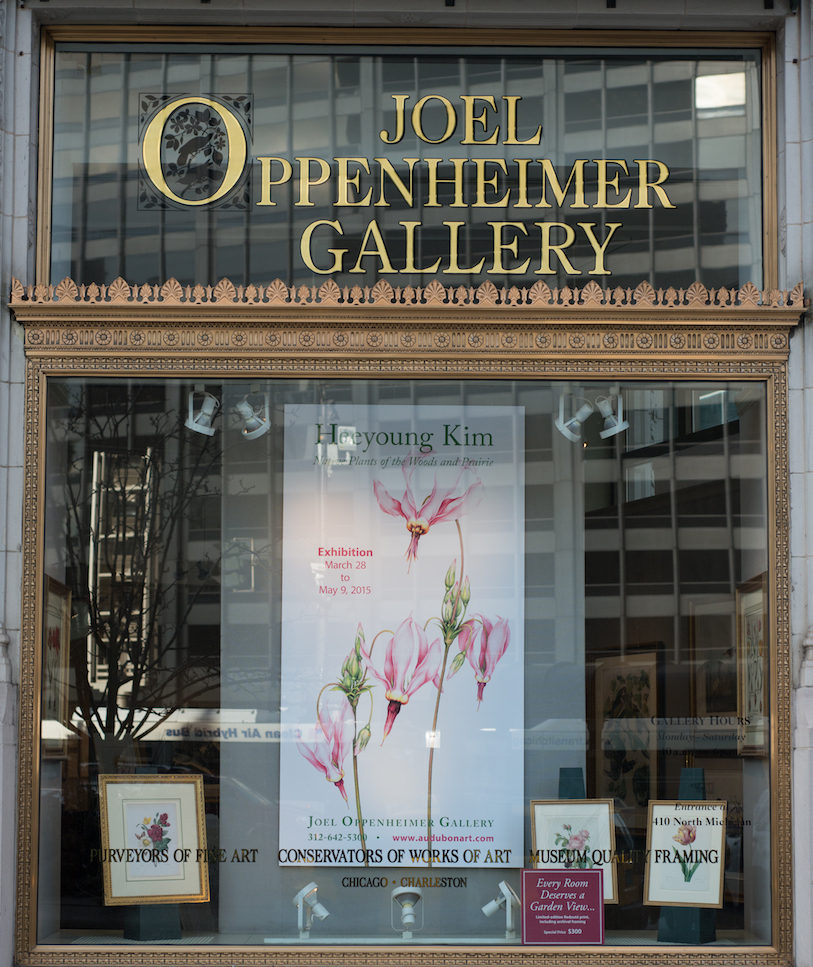 Heeyoung is honored to be represented as the first and only living artist among masters the gallery represents. J.O Gallery is known with its devotion to the golden age of natural history art, from 17th through 19th centuries. Heeyoung is thrilled to see her works hung side by side with John James Audubon and Pierre-Joseph Redoute. Original works and J.O. Limited Editions are available at the gallery.
10 E. Ohio St. Chicago, IL 60611. Tel: 312-642-5300 www.audubonart.com
Locally, nationally and internationally, Heeyoung has been actively exhibiting her works through various venues. One striking image of an endangered species speaks thousands of words.
From basics to masterful techniques, Heeyoung teaches all about botanical art. Watercolor, graphite pencil, and pen-and-ink classes for all levels are offered on Mondays and Saturdays year around at Brushwood Center at Ryerson Woods, Riverwoods (Deerfield), IL. She occasionally offers various classes at Chicago Botanic Garden, and nationwide as a visiting artist. For registration, contact Heeyoung. Read more about classes....
Heeyoung Kim's 3 watercolor paintings have been selected for inclusion in Transylvania Florilegium (a wildflower documentation project of the Prince of Wales), "presently being created under the aegis of the Prince's School of Traditional Arts to record in a permanent way the flora of Transylvania".
Photo: Heeyoung at pristine meadow of Transylvania, Romania.
Orchid Painting Collection
Along with painting Midwestern native plants, Heeyoung has been affectionate in orchid species. Intricate and bold compositions of rare orchid species reflect the authenticity of her art with contemporary edge in a traditional art form. For image publicity or collaboration, contact the artist. Slide Show
Annual Botanical Art Exhibit by Heeyoung Kim and Students
Watch video about 3rd Annual Exhibit! (Click)
Botanical art classes at Brushwood Center goes beyond technique learnings. Some come to the class to pursue meaningful life after retirement, some feel therapeutic in creating art, and some others express their enthusiasm for nature as an art. We have become an encouraging art community with blissful support from Brushwood Center, a perfect setting in pristine nature preserve. At the end of the year, we celebrate our art through an exhibit. Read more about exhibits...